Way back in the glory days of WWE, before he was Dwayne Johnson and when he was simply The Rock, one of the best things about watching was the way he consistently oversold Stone Cold Steve Austin's trademark Stunner.
You know what I mean: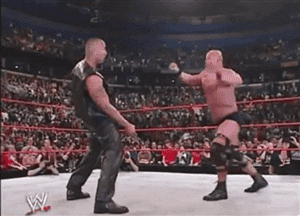 Beautiful.
Now, far be if from me to accuse Mr The Rock of over-acting, but during a recent chat on the Handsome Rambler podcast, Hannibal Buress happened to bring up this very phenomenon:
Talking with @TonyTrimm about how @TheRock used to sell the shit out of the Stone Cold Stunner on @HandsomeRambler pic.twitter.com/NZRVJ1Geqc

— Hannibal Buress (@hannibalburess) July 27, 2017
And The Rock could not resist clearing a few things up…
My dude. Appreciate it HB. Me and @steveaustinBSR used to bet cases of beer on how crazy I could get with my "sell" of his famous Stunner. https://t.co/VtTmqI1jkW

— Dwayne Johnson (@TheRock) July 27, 2017
This isn't the first time our pal Dwayne has spoken about his overselling. Last year a fan made a compilation of some of the very best clips and posted it to Twitter:
When The Rock use to oversell the Stone Cold Stunner #GrowingUpWatchingWWE pic.twitter.com/28NvtVpokl

— Wrestling LAD (@WrestlingLAD) July 4, 2016
Dwayne responded by telling him he didn't call it 'overselling', they called it 'money':
Luv this! @steveaustinBSR & I never called it "overselling". We'd hug backstage, drink beer & call it "money"
https://t.co/3lkMQJG2qV

— Dwayne Johnson (@TheRock) July 4, 2016
Atleast now we know that Dwayne is really the COOL guy.