If it's a quiz show, and a question comes up that just so happens to be something we know a lot about, if a contestant gets it wrong we go mad. "That's so obvious, how the f**k could you not get that?! Get a grip, mate."
It's the same with football, and pretty much any sport. The professionals, who are paid a lot of money to run about on a pitch doing what they're doing, clearly don't know as much as any of us. That's a fact.
Same with Ninja Warrior. If someone as ripped as The Rock turns up, looks in peak physical condition, has trained for months, and then stumbles at the first stage, we sit there shoving Pringles into our mouths saying "pathetic".
Even if they make it to the end we still criticise them. "Could have done better – looked shaky on the wall climb."




Despite this being the only thing to expect from going on those type of shows, a lot of people apply, and sometimes celebs have a crack.
Is this a case of life imitating art? Or, much less likely, did Arrow's creators just take one good luck at Stephen Amell working out in 2012 and decide to write the show we now love? Whatever the case, the man who plays a superhero on TV also appears to actually be one in real life, at least on the American Ninja Warrior obstacle course.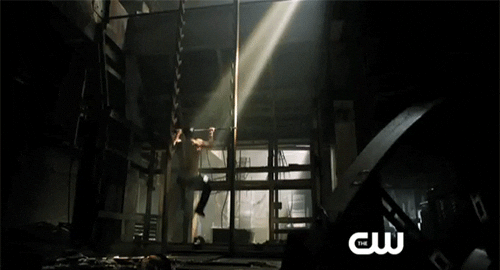 In a special Red Nose Day celebrity edition of the NBC show, where each obstacle completed raised another five grand for the charity, Amell conquered the first set of obstacles in dynamic fashion. But Oliver Queen wouldn't be denied a crack at the Salmon Ladder, oh no, not when Amell freely admits to Arrow ripping off the iconic ANW setpiece. Well, as this performance shows, Amell's certainly earned the right to borrow the workout challenge.
Amell's impressive run, which you can watch in full below, earned a cool $35k for Red Nose Day, so it looks like art really does imitate life in this case.